Ultrasonic toothpaste emmi-pet
Ultrasonic toothpaste emmi-pet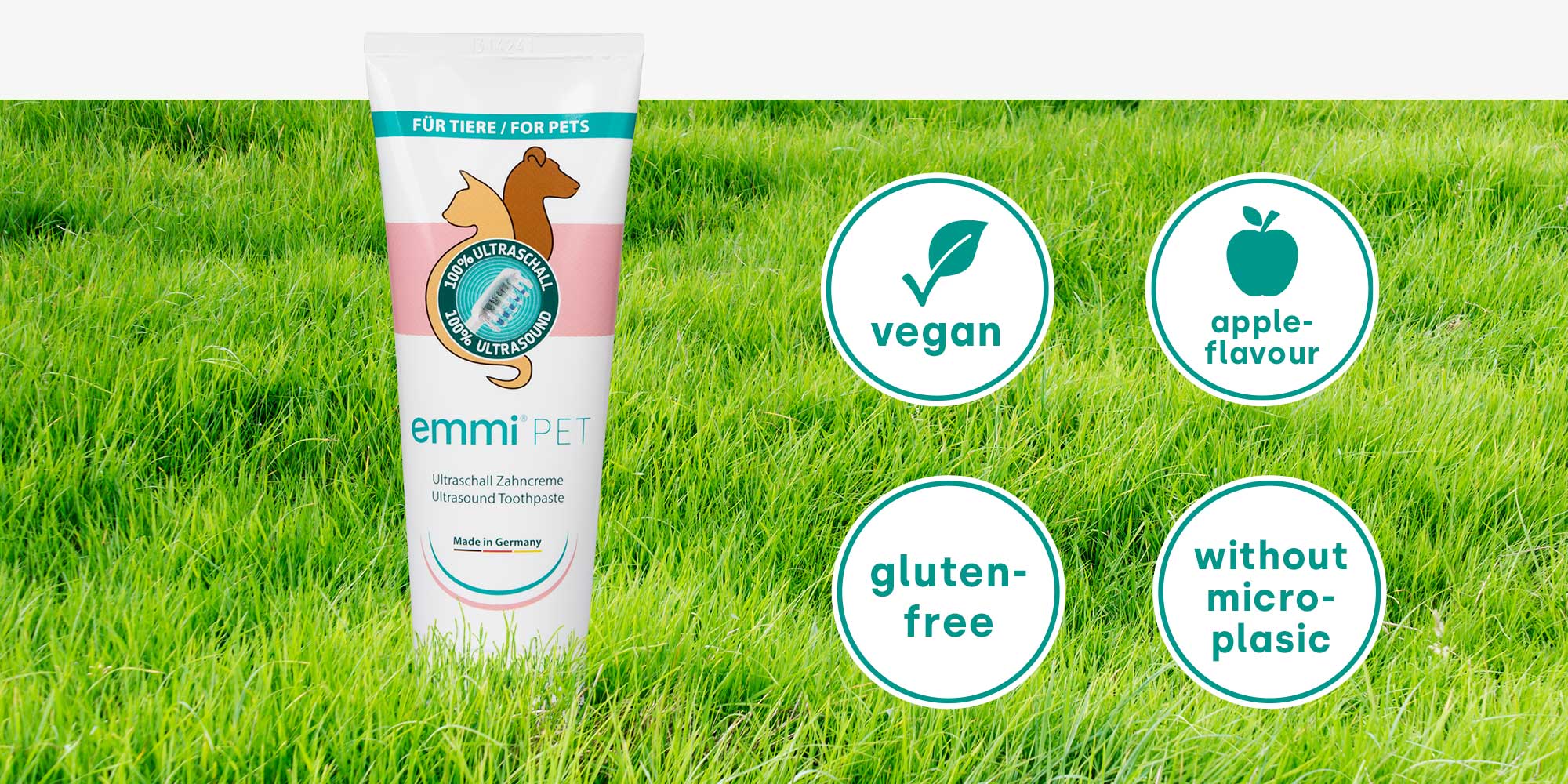 As part of the emmi-pet dental cleaning and oral hygiene with 100% original ultrasound, the special ultrasonic toothpaste from emmi-pet ensures an optimal cleaning effect through the formation of microbubbles that have been enriched in an additional production step. The emmi-pet ultrasonic toothpaste has been optimised for the emmi-pet ultrasonic toothbrush.
The original emmi-pet ultrasound and the emmi-pet ultrasound toothpaste form millions of microbubbles in the mouth every split second. The microbubbles penetrate into the interdental spaces as well as into the smallest crevices and implode (harmless for the animal) through the multi-frequency vibrations of the emmi-pet ultrasonic toothbrush. They remove biofilms and impurities and reduce germs and bacteria.
The use of the original emmi-pet ultrasound eliminates the need for abrasive brushing of the teeth (RDA value = 0). This is why emmi-pet ultrasonic toothpaste is so gentle on your pet's enamel and gums. The teeth retain their natural protection against bacteria and germs and the risk of tooth and gum disease can be significantly reduced.
The procedure is completely safe and even helps prevent bad mouth odour.
The
emmi-pet
ultrasonic toothpaste for dogs is based on the research and development of
emmi-dent toothpastes
- ingredients of the toothpaste have been adapted to the needs and health system of the animal.
Detection of microbubbles in the emmi toothpastes:
As shown here, you can see a detail taken with high magnification from the
emmi
toothpaste. It was made with the Hiteachi S-4500 scanning electron microscope.
It shows very clearly the presence of so-called microbubbles, a microbubble itself is about a hundred times smaller than a plaque bacterium.
emmi-pet -

For radiantly beautiful teeth and healthy gums

.
Scope of delivery
1x emmi-pet ZA ultrasonic toothpaste for animals - 75ml
Ingredients emmi-pet ZA - Ultrasonic toothpaste for animals
Aqua - Water
Hydrated Silica - Silica gel (silicon dioxide)
Sorbitol - Sorbitol (sorbitol)
Glycerin - Glycerol
Disodium Pyrophosphate - Disodium Pyrophosphate
CI 77891 (Titanium Dioxide) - Titanium dioxide (E171)
Sodium Saccharin - Sodium Saccharin
Sodium Methylparaben - Sodium Methylparaben
Sodium C14-16 Olefin Sulfonate - Sodium C14-16 Olefin Sulfonate
Tetrapotassium Pyrophosphate - Tetrapotassium Pyrophosphate
Xanthan Gum - Xanthan (E415)
Flavour
Contains no fluorides, gluten, nanomaterials or microplastics.
AROMA CONTENT: > 0.1% < 1%
Login or Register with...